Fellow members,
Now that the 2023 golf season is well under way at Paragon G&CC we sincerely hope you have a great start to the season.
Here is a brief update on some things happening around the golf course.
We are very happy to roll out our new tee signs this year, which we believe will be a great asset to the golf course.
We have received a lot of positive feed back from our members and we think they look great!!
We have also installed new yardage markers to our fairways. The old yardage markers were in pretty rough shape and we feel that not only will the new markers provide a more accurate yardage for golfers, but will also be a great aiming point for your tee shots.
The following yardages are to the middle of the greens.
Blue and White = 200 yards
Black and White = 150 yards
Red and White = 100 yards
# 8 Tee / Periscope Replacement
As most members are aware the periscope located on the blue/white tee on #8 was blown down during Hurricane Fiona in September 2022.
A new periscope is currently being constructed off site.
In the meantime we have installed a bell over the hill on the left hand side of #8 fairway, which is to be rung by golfers after they have hit their shots, and cleared this area.
A sign instructing golfers to wait for the bell before hitting their tee shot has been installed on #8 tee.
We hope to get the new periscope installed in the very near future.
The safety of our members and guests is very important to us, and we will be looking at improving various other safety measures around the golf course this year.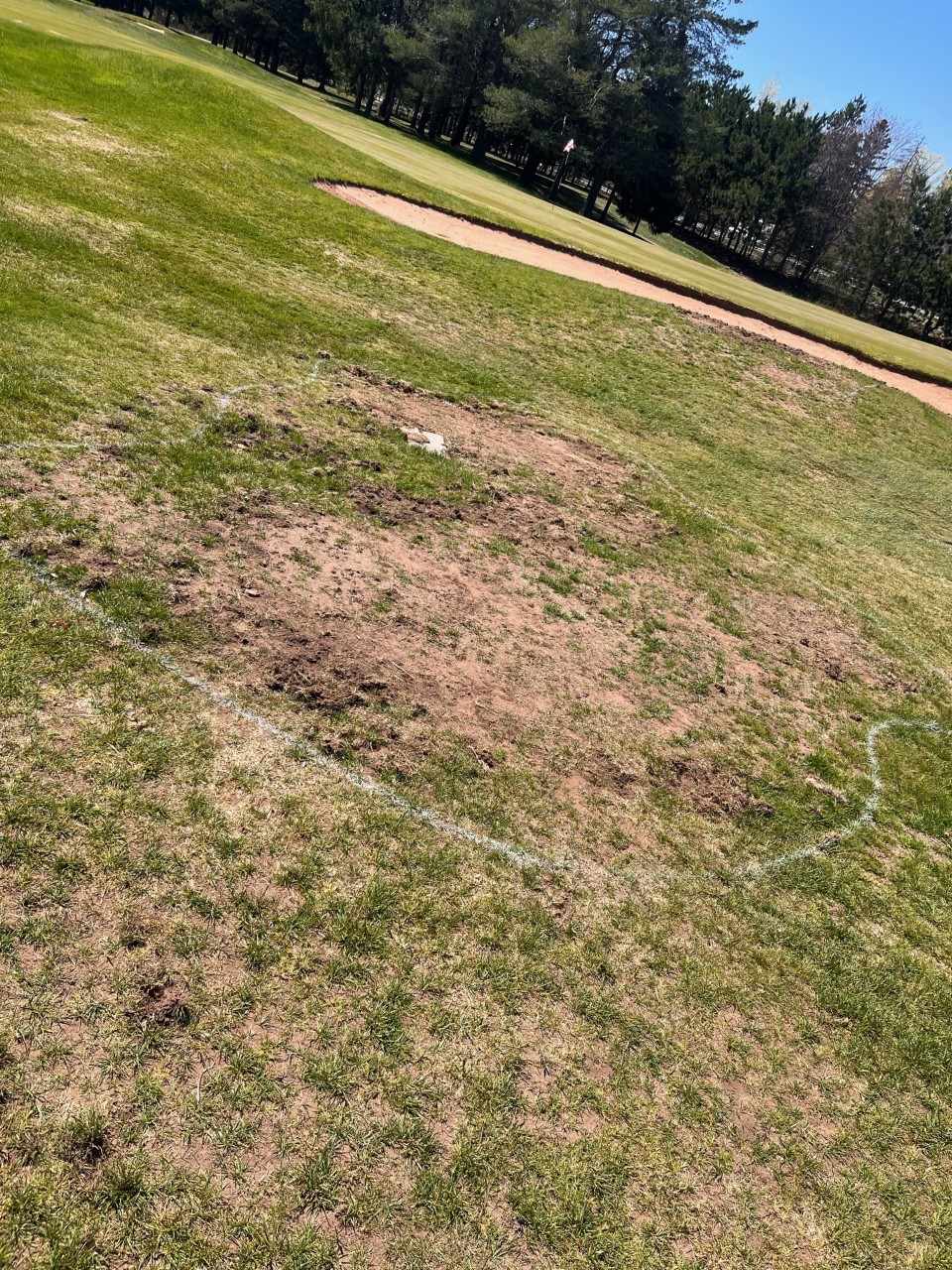 As most of you would have noticed by now, there is a significant amount of damaged turf areas around the golf course. This damage is caused by the presence of the grub of the European Chafer beetle. This grub is very similar to a June bug grub, and is a very abundant source of food for crows, seagulls, raccoons, skunks, etc. These critters subsequently dig the the surface of the ground in order to pluck out the juicy grubs!
The grounds crew is currently adding soil and seed in order to repair the damaged areas and will continue to do so in the weeks to come.
Also to prevent further damage we will be implementing a corrective strategy as part of our fertilizer/chemical program in order to limit their type of damage to the golf course moving forward.
The timing of these applications is determined by the life cycle of the Chafer beetle, but when done correctly will minimize if not eliminate this pest in the future. I hope this helps to explain this issue as well as our plan of action to correct the problem.
Looking forward to another great season here at Paragon G&CC.
Your truly,
Dave MacMillan
Director of Golf Operations, PG&CC
https://www.paragongolf.ca/wp-content/uploads/2021/02/paragon-logo.png
0
0
Libby Blatch
https://www.paragongolf.ca/wp-content/uploads/2021/02/paragon-logo.png
Libby Blatch
2023-05-17 13:15:06
2023-05-17 13:15:06
Turf Talk